Foodservice News Archive
February 17, 2016
Global Stevia Market Grows
Research and Markets (http://www.researchandmarkets.com/research/h3t39z/global_stevia) has announced the addition of the"Global Stevia Market 2016-2020" report to their offering.
The global stevia market to grow at a CAGR of 8.82% during the period 2016-2020.
The report covers the present scenario and the growth prospects of the global stevia market for the period 2016-2020. To calculate the market size, the report considers the revenue generated through the retail sales of stevia, in terms of end use in different applications by the extract types such as powder, liquid, and leaf. The report also includes a discussion of the key vendors operating in this market.
February 9, 2016
Coffee Pod Sales are Falling
Coffee pod machines may be going out of style, according to the latest sales for companies like Keurig.
In recent years, sales of pod-based coffee makers grew from 1.8 million units in 2008 to 11.6 million units in 2013, according to Euromonitor. Now, the trend is reversing, with Keurig reporting negative sales growth for the sixth consecutive quarter for its coffee machines.
Keurig coffee pod sales are dropping as the U.S. economy is improving. With more money to spend, consumers are increasingly willing to buy coffee from coffee shops.
Customers have also grown concerned with the amount of waste created by the pods, the majority of which were not recyclable as of 2014, reported The Washington Post. Full Story
February 4, 2016
Think your coffee shoppe is best – compete
It's happening. This week in Kansas City, Missouri the Specialty Coffee Association of America will present the 2016 US Coffee Championships Qualifying Event, a major exhibition of competitive coffee prowess the likes of which the United States has never seen. That's because for the first time ever, every single competitor who wants to advance to the United States Barista Championship will be competing in the same preliminary event. Let's learn more about it using the handy Socratic method. An exact breakdown of how this all works is available here via the SCAA.
January 25, 2016
Operators leverage breakfast, coffee all day long
Breakfast is the only restaurant daypart with sustained visit growth over the last several years, according to The NPD Group, a Port Washington, N.Y.-based research firm. It's a style of eating so popular that it is on the menu all day in a growing number of eateries.
Not surprisingly, coffee, as a high-margin add-on sale or a destination driver itself, is poised to play an important role whenever breakfast is served. read more – http://bit.ly/1UmBEuY
January 21, 2016
Caribou Coffee Makes 'Clean Label' Commitment for 2016
Caribou Coffee is committing to a "clean label" beverage platform that will take effect throughout 2016, beginning with the launch today of a "real vanilla syrup."
"Clean label offerings are increasingly important to our consumers and meet the taste standards we set for ourselves as a premier coffee brand," Caribou Coffee Chief Marketing Officer Michele Vig said in a company announcement today, adding that the company will be working toward using all-natural ingredients in its menu items "whenever possible."
Clean label ingredients of course are a possibility all the time when bottom-line interests aren't primarily concerned, but the Caribou campaign nonetheless reflects a trend among some of the country's largest food-and-drink purveyors to move away from offerings that include long lists of ingredients that smack of artificiality or are not clearly recognizable as human food.
January 15, 2016
Kids Drinking Coffee for the First Time
While market researchers most often cite millennials as the demographic driving growth in fancy coffee, time marches on, and coffee's future will eventually be molded by hands that are currently much smaller.
While the "babyccino" phenomenon is nearly four years old, it doesn't appear to have done much in positively affecting perceptions of coffee for little rascals at large, as evidenced by this new Buzzfeed-produced video showing kids painfully drinking coffee for the first time. read more – http://bit.ly/1KhHBUi
January 5, 2016
Huge coffee crop drives down prices
Arabica coffee bean prices fell 28% this year and retail coffee prices dipped 4.3% in November, according to government data, as plentiful rains produced a bumper crop in Brazil. Production is also on the rise in Colombia and Honduras, setting the stage for even lower prices in 2016
December 30, 2015
so true ….
December 23, 2015
Nitro Cold Brew Ready for Prime Time at Caribou Coffee
As the final few droplets of 2015 join the great, dark concentrate of time gone by, it's safe to say it was a banner year for coffee served cold. While old-fashioned iced coffee has appeared on menus for decades, this year there seemed to unfold a many-petaled lotus of quirk and craft around the hottest cold drink in town. As cold brew news snowballed down the pike, we learned practically all at once that it's now being kegged, canned, bottled, boxed, hopped, spiced, sonicated, sweetened, oak-chipped, flash-chilled, buttered and distilled.
Nitro cold brew — coffee dispensed beer-style through a nitrogen-pressurized tap — has continued its climb to widespread popularity, becoming de rigueur among offerings by posh shops and pop-ups around the world. There's therefore no more fitting conclusion to the year in cold brew than news that the creamy, cascading nitro-tapped cup is officially graduating out of its indie-darling status with adoption by Caribou Coffee Company.
December 15, 2015
Chemist brings heart-healthy coffee to market
PORTSMOUTH… A new coffee created by a local organic chemist and marketed by a Portsmouth start-up incubator combines the perk-me-up qualities of java with the heart-healthy qualities of antioxidants found in red wine.The product is CoffVee, Arabica beans infused during roasting with resveratrol, the naturally occurring antioxidant found in the skins of grapes used to make red wine.It was created in a patented process by Glen Miller, an organic chemist who currently chairs the Chemistry Department at the University of New Hampshire in Durham, where he's been for 20 years. Miller is working with the New England Innovation Center at 75 Congress St., Portsmouth, for its start-up know how to get the product into the market. read more … http://bit.ly/1IPkfKm
December 7, 2015
Investor group to buy Keurig for $13.9B
An investor group headed by private equity firm JAB Holding Co. is buying… Keurig Green Mountain for $13.9 billion, valuing it at $92 per share.  JAB's purchase of Keurig is in conjunction with strategic minority investors that also are shareholders in… Jacobs Douwe Egberts B.V…. including Mondelez International. The transaction is expected to close in Q1 2016.
December 3, 2015
Why Coffee May Protect Against Type 2 Diabetes
Our friends at Time Magazine published an article on the benefits of drinking coffee… Coffee lovers are getting all sorts of good news lately. It was recently found that coffee drinkers live longer, and now a new study suggests that certain components in coffee protect against type 2 diabetes. In the latest study, published in the American Chemical Society's Journal of Natural Products, researchers identified two compounds in coffee that are thought to help lower the risk of type 2 diabetes. The link between drinking coffee and a lower risk of type 2 diabetes onset has been previously discovered, though scientists were unsure why the connection was there. While there was some speculation that the caffeine in coffee might have a role, other data has suggested that people benefit even if they're drinking decaf. read more … http://ti.me/1HGE7yZ
November 30, 2015
The Direct Trade-v-Fair Trade debate resurfaced here last week.
Today I want to explore a related idea, that the leading proponents of these two trading models may have communicated themselves into corners from which they can't easily extricate themselves even though they desperately need to. Direct Trade has put cup quality at the center of its value proposition while Fair Trade has positioned itself as the ethically superior option in the marketplace. Direct Trade means quality, Fair Trade means justice, and never the twain shall meet. But what if the success of Direct Trade requires deeper commitment to social impact? And the success of Fair Trade requires improved performance on quality? What then? read more … http://dailycoffeenews.com/2015/11/25/fair-trade-vs-direct-trade-communicating-yourself-into-a-corner/
November 23, 2015
Sugar shunners spur sales of substitutes
Ingredient-conscious consumers have targeted sugar as public enemy number one, according to the NPD Group. It's the most-avoided ingredient and one considered as important as total calories on nutrition labels, the information company says. It comes as no surprise then that consumers are making a beeline for more sugar-free, unsweetened or reduced-sugar products. NPD reports that major foodservice distributors have stepped up shipments of sugar substitutes to restaurants and foodservice outlets by 22 percent this year compared with a year ago.
November 17, 2015
Report: How Coffee Leads To Better Health
AFP reports that the Harvard University Chan School of Public Health is out with a new study saying that "people who report drinking three to five cups of coffee per day are less likely to die prematurely from heart disease, suicide, diabetes or Parkinson's disease." The story goes on: "Both caffeinated and decaffeinated coffee were shown to have benefits … The study compared people who don't drink coffee, or drank less than two cups daily, to those who reported drinking 'moderate' amounts of coffee, or up to five cups daily." The study did not prove a cause-and-effect for coffee and the reduced likelihood of certain diseases, but uncovered an apparent link that aligns with previous research, and that scientists would like to probe further.
November 12, 2015
Evidence shows low energy sweeteners help reduce energy intake and body weight
Use of low energy sweeteners (LES) in place of sugar, in children and adults, leads to reduced calorie intake and body weight…  "and possibly also when comparing LES beverages to water…" according to a review led by researchers at the University of Bristol published in the International Journal of Obesity today.
For the first time, all available science was integrated into a single review to evaluate the real impact of LES, such as saccharin, aspartame, sucralose and stevia, on energy intake (EI) and body weight (BW) over the short- and long-term….  A considerable weight of evidence confirmed that consuming LES instead of sugar helps reduce relative energy intake and body weight. read more … http://bit.ly/20P30P6
November 10, 2015
13 beverage trends for 2016
Interesting …… http://nrn.com/beverage-trends/13-beverage-trends-2016#slide-0-field_images-148881
November 5, 2015
Now here is an invention – GE Appliances Releases Refrigerator with Built-In Keurig K-Cup System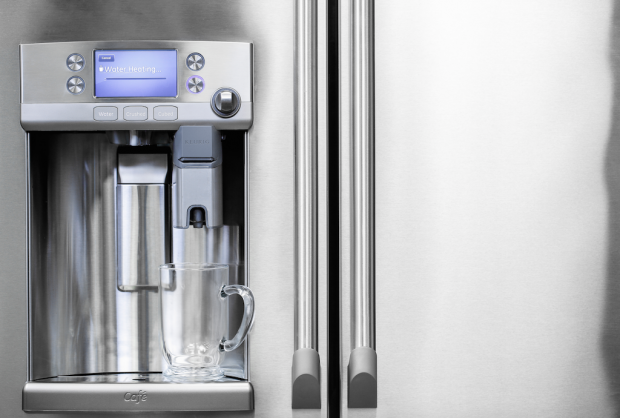 General Electric division GE Appliances today announced the widespread release of theGE Café Series refrigerator, designed to offer a "more convenient kitchen experience" through a built-in Keurig K-Cup brewing system.
October 28, 2015
Barista Competition
The Specialty Coffee Association of America has just announced the new U.S. barista competition structure for qualifying events, centered around a single weekend in a single location smack dab in the middle of the country, February 2-6 at the Kansas City (Mo.) Convention Center.
The revised competition platform follows the work of an ad hoc committee formed to address concerns aired after the SCAA announced it was ending all regional competitions in an effort to reduce annual operational costs. The group later issued a production cost breakdown of what were — as of a year ago — three separate regional competitions, saying that more than $100,000 of expenses were required from the group's general fund, generated through membership dues. read more … http://bit.ly/1LDaIDZ
October 19, 2015
Creating a Stir with Hot Seasonal Beverages
Great article form our friends at NRN –
Fall is in full swing, the holidays are nigh and hot seasonal beverages are pulling in patrons who can't wait to drink them. Restaurant and coffeehouse operators are excited too, because frothy, flavorful, limited-time coffees and hot chocolates are sales builders par excellence.
The undeniable gold standard flavor of fall seasonal beverages is pumpkin. Chalk it up to the runaway success of the Pumpkin Spice Latte, Starbucks Coffee's all-time best-selling seasonal. As of last year, the Seattle-based chain had sold more than 200 million PSLs since fall 2003. read more – http://bit.ly/1GPpseL
October 15, 2015
Restaurants dealing with less-thirsty guests
Although consumers order a beverage 70 percent of the time when visiting restaurants and other foodservice outlets, beverage orders have declined 4 percent or 2 billion servings over a five-year period, according to market researchers at The NPD Group. Evolving tastes and cost consciousness are behind declines, the firm says. Specialty coffee, tap water, frozen drinks are more popular, but fewer order carbonated soft drinks, brewed coffee and milk. read more – http://bit.ly/1LmdtY1
October 7, 2015
Peet's Coffee & Tea will acquire Stumptown Coffee Roasters
Stumptown operates 10 cold brew coffee stores in Portland, Seattle, New York and Los Angeles. The company will continue to operate independently, but will have access to Peet's resources and scale, reported The State. Full Story
October 1, 2015
Happy International Coffee Day
International Coffee Day is an occasion that is used to promote and celebrate coffee as a beverage, with events now occurring in places across the world. The first official date will be 1 October 2015, as agreed by the International Coffee Organization[1] and will be launched in Milan.[2] This day is also used to promote fair trade coffee and to raise awareness for the plight of the coffee growers.[3] On this day, many businesses offer free or discounted cups of coffee.[4] Some businesses share coupons and special deals with their loyal followers via social networking.[5] Some greeting card companies sell National Coffee Day greeting cards as well as free e-cards.[6][7]
September 29, 2015
Coffee and Tea on Tap
Kombucha tea and iced coffees are just some of the new beverages flowing from the bar.
From cocktails to wine to coffee, operators are dedicating draft lines to drinks beyond the traditional brew. Beverages on tap remain fresher for longer and offer a unique experience—bold flavors with an eye-catching presentation.
Brewed, a gastropub in Fort Worth, Texas, has seen strong sales of both Kombucha tea and Cuvée Black & Blue Nitrogenated Coffee on tap. read more … http://bit.ly/1O0lZQB
September 21, 2015
NPD: Seasonal beverage programs attract loyal visitors
As fall quickly approaches, many consumers are looking forward to cooler weather and a change in routine, but also to the return of their favorite seasonal beverages, such as pumpkin coffees and lattes and white mochas. New data from global market research firm The NPD Group shows that such seasonal beverage limited-time offers can have a positive impact on chain operators' business.
"Do you have a seasonal beverage program?" asks Bonnie Riggs, analyst at NPD. "You should."
While limited-time offers tend to be one-offs — customers buy one and then they're done — seasonal beverage offers can inspire additional visits from existing customers, lure in new customers, attract customers from competitors and stimulate new business during slow periods, according to the latest research from NPD's new Checkout Tracking. Checkout Tracking harvests receipts from more than 35,000 diners to track consumer purchase behavior. read more … http://bit.ly/1V5zNiD
September 16, 2015
Coffee Prices Remain Low Amid El Niño Forecast
The commodity daily coffee price dropped to its lowest point in 19 months in August to $1.1142 USD per pound but ended with a monthly average of $1.212, a 1.21 percent increase over July's 18-month low, according to the latest figures from the London-based International Coffee Organization.
The month saw increased volatility in the C-market, with several factors at play, including an ongoing El Niño weather event — predicted by numerous weather authorities to be the most dramatic since the 1997-98 El Niño — that is likely to affect numerous producing regions and countries. read more – http://bit.ly/1KS8HH1
September 4, 2015
How pumpkin took over
Twelve years after Starbucks poured its first Pumpkin Spice Latte, the humble pumpkin has become a cultural force too divisive to ignore. The deeply polarizing autumnal squash has, depending on whom you ask, become either one of America's most celebrated symbols of fall or an inescapable menace in a bright orange shell.
But lost in the cultural debate has been the pumpkin's ascendance to unstoppable financial juggernaut. Once consigned to pie fillings and craft beers, the pumpkin now presides over a sprawling empire spanning nearly every grocery aisle, including pumpkin-flavored pet treats, baby food, tobacco, cheese, soda, hummus, tortilla chips, vodka and soy milk. Read more – http://wapo.st/1XkYMgn
Please remember to sweeten your pumpkin latte with EcoSticks –
August 28, 2015
New Heights in Hopped Cold Coffee
new way to brew and serve coffee – hopped and cold – Though we're approaching the tail end of the dog days of summer here in the US, the collective cold brew renaissance continues to evolve. The market has already indicated that cold coffee is no longer necessarily an item of mere seasonal popularity, and this seems especially true for the culinary spirit and beer-style craft of 46 and 2 Brewing, a Cleveland-based start-up poised to endure well past the "offseason." read more – http://dailycoffeenews.com/2015/08/28/46-and-2-equals-new-heights-in-hopped-cold-coffee/
July 8, 2015
What is the coffee industry brewing today?
The coffee industry is seeing its ups and downs in terms of production, consumption, influx of varietals, the consumer shift to specialty coffee, and, most noticeably, increases in price.
"Simultaneously extremely exciting and a little tumultuous" — this is the state of the U.S. coffee industry today, according to Jason Sarley, associate editor of Coffee Review, a publication dedicated to be a high-end coffee resource for consumers.
Findings from the National Coffee Association's National Coffee Drinking Trends study confirm this downward trend in U.S. coffee consumption. The study found that "59 percent of Americans drink a daily cup of coffee, down from 61 percent in 2014 and 63 percent in 2013," Fortune reported. Americans drank 1.85 cups of coffee per day, according to the study, down from 2.01 cups in 2014.
This is in part being driven by Americans aged 60 and older, who comprise the largest group of coffee drinkers but who are also contributing significantly to the decrease in U.S. coffee consumption. According to the study, "Sixty-five percent of Americans aged 60 and older said they drank a cup of coffee the prior day, the same rate as 2014 but down from 76 percent in 2013," Fortune reported.
Read more of the article here
June 29, 2015
After tap water, brewed coffee is the most consumed beverage
If you're one of the many people who start every day with a coffee in hand, you probably won't be surprised at this survey takeaway: brewed coffee is the most consumed beverage after tap water. More than 40% of adult Americans report drinking coffee on any given day, resulting in a higher daily incidence rate than bottled water, juice, and carbonated soft drinks (CSD). Consumers' top two perceptions of coffee include its great taste and the fact that it provides a wake-up jolt of caffeine. Coffee consumption is highest in the morning (with 54% of people reporting that they drank hot coffee during breakfast), and then tapers off until spiking again in the afternoon. Thus, coffee isn't just a big player at coffeehouses and breakfast establishments – operators have around-the-clock opportunities to attract customers. Some operators have capitalized on this with post-lunch happy hour discounts to attract business from people needing an afternoon pick-me-up. Starbucks has offered the Frappuccino Happy Hour, where the blended beverages are half-off from 3 to 5 p.m., and similarly,Dunkin' Donuts has offered 99-cent coffees and teas in the afternoon.  read more … http://bit.ly/1IG7N9u
June 23, 2015
Coffee Consumption is dropping for the first time in years
Keurig Green Mountain's K-Cups have gotten plenty of flak for being wasteful. In 2014, the company sold enough non-recyclable containers to circle the earth 10.5 times. The cups almost always end up in landfills. But Keurig machines might also be creating less waste, in a manner of speaking.
According to a biannual report on coffee released Friday by the USDA, coffee consumption is declining in the United States for the first time since 2009-2010. The reason? The rise of Keurig machines means fewer Americans are pouring their extra drip coffee down the drain. read more – http://fortune.com/2015/06/22/coffee-consumption/
Limited-service restaurants leading coffee market
Coffee-café segment sales hit $23.4 billion in 2014, up 7.5 percent from 2013, according to Technomic. Those sales increases make sense, according to The NPD Group's "CREST: YE March 2015," which reported that coffee servings were up 2 percent in commercial foodservice outlets between March 2014 and March of this year.
Chains vs independents
While there has been steady coffee growth across both chains as well as independent units in the past few years, when it comes to brewed coffee, NPD found that chains captured almost three-quarters of all servings. That was even higher for specialty coffee; chains captured more than 90 percent of those servings.
Starbucks remains the leader in specialty coffee servings, Solochek said, while brewed coffee servings are more dispersed between the top chains.
read the article here – http://bit.ly/1Fxi9q8
Rising Demand Sweetens Sugar Prices
From WSJ –
The price of raw sugar, which refiners process to make white sugar for food companies and grocery stores, has pulled up from a six-year low. Some of the buyers are refiners taking advantage of the difference between prices for raw sugar in New York and white sugar in London, said analysts at Commerzbank.
"Demand for white sugar is very robust at present," the Commerzbank analysts wrote in a note. "This has widened the price gap between white sugar and raw sugar in the past two months considerably, prompting sugar refiners to demand more raw sugar."
read the rest here – http://www.wsj.com/articles/rising-demand-sweetens-sugar-prices-1428255391
Coffee is losing its traditional dominance as younger Americans turn to tea
The United States was once a country fueled by coffee and the average American was once one of the largest consumers of coffee in the world. In 1946 the average American drank nearly 46 gallons of coffee a year, compared to only 23 gallons in 2013. Americans aren't shunning all hot drinks, however, as tea has been consistently growing in popularity in recent years, with consumption growing 20% from 2000 to 2014.
YouGov's latest research indicates that a generational shift may be partially to blame for coffee's dwindling consumption. Amongst older Americans coffee is the clear favorite. 70% of over-65s say that they prefer coffee to tea, while only 21% prefer tea. Among under-30s, however, coffee and tea are equally popular, with 42% of millenials preferring coffee and 42% opting for tea.
Study: Millennials Embrace Private Brand
Marketing Daily reports on a new Mintel study saying that private brands have found considerable favor among Millennials: "42% of Millennials (ages 18-36) agree that store brand food products are more innovative than name-brand products. In fact, Millennials are more likely to buy store brand foods in general (97% versus 94% of all U.S. shoppers).
"Furthermore, 37% of U.S. shoppers as a whole say they prefer to buy store brand products over brand name products. "
The story goes on to say that "nearly two-thirds (63%) of store brand buyers —  including 70% of Millennials — agree that these products are higher-quality than they used to be. Many shoppers also agree that store brands stack up against their name brand counterparts in flavor, packaging and variety of product offerings."
Is Agave Nectar Healthier Than Sugar or Other Sweeteners?
Agave syrup, produced from sap of a plant that's been used medicinally in Mexico for generations, is gaining popularity in the U.S. Recently, 29 new products with agave, including chocolate, energy bars, granola and soda, hit supermarket shelves, according to Mintel, a leading market research company.
The natural sweetener is valued as a vegan alternative to honey and touted for its low glycemic index. Foods with a higher glycemic index (GI) tend to trigger a greater surge in blood sugar and insulin—the hormone that helps the sugar get into cells—just after eating. (These spikes can be particularly problematic for those with diabetes. High-GI foods also tend to make you hungry again sooner because they're digested quickly.) According to a study in the American Journal of Clinical Nutrition, agave's GI value is about five times lower than table sugar's. Currently no studies compare how, relative to other sugars, agave may affect blood-sugar control. But based on the buzz agave's been generating, we'll likely see research in the near future.
Agave packs 20 calories per teaspoon, five more than granulated sugar, but, like honey, it's sweeter than sugar, so you need less to achieve the same level of sweetness. A general substitution is to use one-third less agave nectar than you would white sugar and reduce other liquids by one-fourth. (This may require experimentation when making some recipes, such as baked goods.)
One final caveat: look for USDA-certified organic products. Nearly all agave sold in the U.S. is imported from Mexico and the FDA has refused some shipments due to excessive pesticide residues. Check for the USDA-certified organic seal or Quality Assurance International (QAI) certified-organic stamp, an independent, global organic certifier accredited by the USDA.
Why Cutting Down On Sugar Is So Challenging — And So Important
We understand that too much sugar in our diets can have significant consequences when it comes to our health. However, that knowledge doesn't make warding off resilient cravings any easier.
In her latest book, Sugar Impact Diet, celebrity nutritionist and fitness expert and HuffPost blogger JJ Virgin explains the proper ways to go about reducing sugar intake and smart strategies for tending to the subsequent cravings. She joined HuffPost Live host Nancy Redd to discuss the best alternatives for milk and sugar in your daily cup of coffee, as well as why we crave the sweet stuff.
"Ideally, they're putting nothing in it, but I don't believe in white-knuckling anything," Virgin said about the best mode of coffee preparation. "I believe in tapering and trading and lowering your sugar impact over time, not overnight, because that'll just get you rushing back for a cookie. What you can use is some coconut milk or some almond milk … If you need a little sweetener: monk fruit … cinnamon, vanilla, all great choices."
It's one thing to have healthy sugar alternatives available, but it's another to understand why we even crave it in the first place.
"Part of the challenge is we've so lost our ability to sense natural sweetness because we've so over-sweetened our foods with these fruit juice concentrates and artificial sweeteners that we don't recognize the natural sweetness of vanilla or cinnamon," Virgin said. "That's what we want to get back to — we want to get back to the point where a blueberry tastes sweet."
Does High-Fructose Corn Syrup Make People Hungrier?
WEDNESDAY, Dec. 10, 2014 (HealthDay News) — Fructose — a kind of sugar found in a wide variety of foods and beverages — may encourage overeating, new research suggests. Fructose may be best known to consumers in the form of high-fructose corn syrup, which has long been added to manufactured foods from sodas to cookies. Distinct from sugar known as glucose (produced by the natural breakdown of complex carbohydrates), fructose is also a "simple" sugar and a natural component of fruit.
However, "in a series of studies we have found that when compared to glucose, the simple sugar, fructose, is a weaker suppressor of brain areas that help control appetite and the motivation to eat," said study co-author Dr. Kathleen Page, an assistant professor of clinical medicine at the Keck School of Medicine of the University of Southern California in Los Angeles.
U.S. sugar futures are 58% higher than those of other countries, and may force companies to pass increases on to consumers next year. The increase is due to the ongoing trade dispute with Mexico, whose exporters were hit with a preliminary tax of up to 64% for selling below value in the U.S. although a pending agreement will suspend the tariffs once Mexico agrees to charge higher prices and restrict exports, reported, The Wall Street Journal.
Stevia Industry has given a major boost to the market.
Stevia has enjoyed a rapid rise in popularity over the past 6 years and, with its versatility as an ingredient, is increasingly becoming the focus of attention for product development. The active compounds of stevia are steviol glycosides , which have up to 150 times the sweetness of sugar,are heat-stable, pH-stable, and not fermentable.
Stevia, a high intensity natural sweetener, offers a sweetening power some 300 times that of table sugar without adding any calories. Stevia can be segmented by Geographies and Applications. Sugar substitute products regulate the sugar intake of consumers and hence, play an important role in the health and well-being of an individual. The potential benefits of consuming these substitutes are highly valuable for all stake holders involved. Applications of this market are Beverage products, Confectionery, Baked Goods, Dairy Products, Frozen Foods, Personal Care (Industry), Food Products – Other and Pharmaceuticals.
Alternative Sweeteners Gain 12% Share of $73.4 Billion Market
BOSTON, MA–(Marketwired – Nov 4, 2014) – Driven by the global rise of obesity, diabetes, and other health concerns, alternative sweeteners have gained a 12% share of the $73.4 billion global market for sweeteners and 22% of its volume by sucrose equivalent (SE), according to Lux Research.
Within the alternative sweetener sector, high-fructose corn syrup (HFCS) accounts for 12% of the market by SE volume, while high-intensity sweeteners (HIS) also called non-nutritive sweeteners, are third with an 8% share. Low-intensity sweeteners (LIS) and natural sweetener alternatives account for 1% each.
"Sucrose is the gold standard that all sweeteners aspire to, but growing health concerns and demand for naturally sourced sweeteners, will lead to the rise of alternative sweetener combinations providing the full range of functionalities offered by sucrose," said Camilla Stice, Lux Research Analyst and the lead author of the report titled, "Just a Spoonful of Sugar: Sizing the Global Sweetener Market."
Lux Research analysts studied the global sweetener market, evaluating the opportunities for alternative sweeteners. Among their findings:
Americas top in per capita consumption. On a per capita basis, South America tops with 68 kg of SE per year, with North America behind at 49 kg. In alternatives, North America is by far the leader, consuming 18 kg SE per capita each year, almost three times the global average.
Beverages dominate alternatives use. Beverages constitute the single-largest end use for HFCS (70%), HIS (74%) and Naturals (66%) while only 32% of sucrose goes to beverages.
Natural products gaining market share. Natural sweeteners now make up only 1% of the total sweetener market by volume. But products like rare sugars, stevia, monk fruit, and sweet proteins are gaining traction and have the potential to gain market share from both sucrose and other alternative sweeteners.
The report, titled "Just a Spoonful of Sugar: Sizing the Global Sweetener Market," is part of the Lux Research Food and Nutrition Intelligence service.